The best iPad stands for 2023
There's nothing like having the convenience of hands-free use of your iPad. Whether you're in the kitchen, streaming a film, or working at your desk, a stand becomes an essential tablet accessory.
Of course, those using their iPad for work may also want to pair the iPad with a keyboard (here are some of the best ones).
An iPad stand will help your posture and viewing comfort, or make typing or using a stylus much easier.
We've rounded up some of the best iPad stands out there for every budget–from the lightweight and portable, to the adjustable, to the ones that just look great.
Some are basic, some are stylish or super-bendy, one comes with an array of handy ports, and one looks like a cuddly toy.
For more hands-free gadgetry, also see our round-up of the best iPhone car holders and mounts.
Lamicall – Most compatible iPad stand
Pros
Works with all iPads
Affordable
Cons
Not full 360-degree rotation
The Lamicall Tablet stand is an adjustable iPad holder that rotates 270 degrees to suit the angle that you need, making it ideal for use at the work desk or kitchen table. It comes with rubber cushions on the hooks to prevent the screen from getting scratched too.
It works with any tablet (or indeed phone) from 4in to 13in.
Twelve South Compass Pro – Most stylish iPad stand
Pros
Ultra stylish
Foldable
Portable
If you're looking for a stylish folding stand to hold up your iPad while you work, Twelve South has you covered with the easel-like Compass Pro.
We like the way it folds up into a small package (and comes with a travel pouch), and can be quickly unfolded and placed on any flat surface.
It's ideal for mobile workers looking to prop up an iPad in a coffee shop, and designers will love its arty credentials.
You can also unfold one side to prop an iPad up on its side.
AmazonBasics – Best budget iPad stand
You can't really go wrong with AmazonBasics – Amazon's line of cheap and cheerful line of gadgets we all need.
The Adjustable Tablet stand fits all iPads under 11in (and of course Kindle Fire tablets and e-readers). The back support pivots to any angle you need – plus, it's collapsible, making it ultra portable and easy to stow away.
It may not be the prettiest to look at, but it's a quick and inexpensive solution to propping up your iPad.
Elago Magnetic Stand for iPads – Best Apple-like iPad stand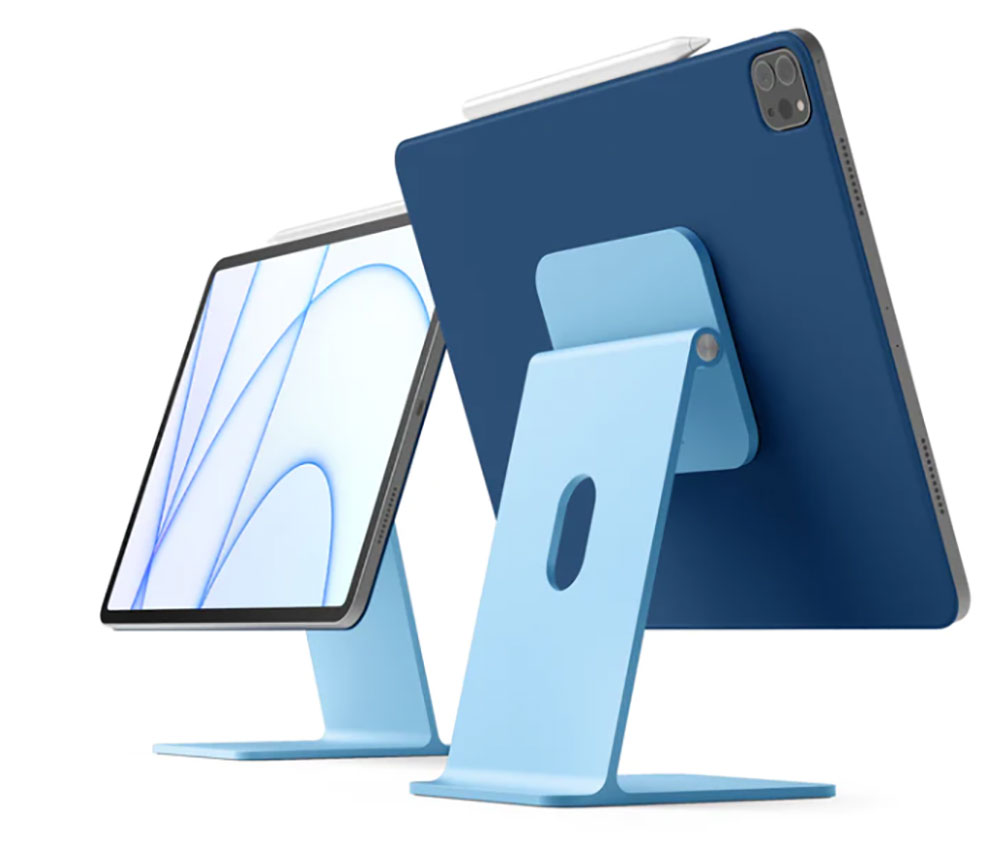 Pros
Makes an iPad into an iMac
Adjustable
If you want a stand that's as close to the Apple aesthetic as possible, you can't get any closer than Elago's new Premium Stand.
The minimal aluminum stand is designed to mirror the 24-inch iMac—and you'd be hard-pressed to tell them apart other than the size. The stand holds all sizes of the iPad with magnets, so it's recommended to be used with a case since none of Appel's iPads support MagSafe.
Like the iMac stand, Elago's stand has a hole to thread a cable through. The stand also allows for tilt adjustment so you can get the best viewing angle. And the iPad can be rotated from portrait to landscape positions freely. Here's a video to see how that works.
The Elago Magnetic Stand for iPads is available in gray, blue, pink, and silver.
UGreen Tablet Stand – For iPad sizes 4in and up
Cons
Doesn't raise iPad screen
This universal stand from UGreen works across a broad range of devices (including Nintendo Switch!) from display sizes as small as 4in – and comes in either white or black.
The stand folds so you can carry it with you to work or to use on your commute. Plus, the hinge flexes up to 100-degrees.
Satechi Aluminum Stand & Hub for iPad Pro – Best aluminum iPad stand
Pros
Includes USB and HDMI ports and SD Card reader
The Satechi Aluminum Stand & Hub for iPad Pro is more than just a strand to help raise your tablet to a more comfortable and ergonomic level.
Cleverly, it's also a hub boasting six handy ports, including: HDMI for adding an external display (4K at up to 60Hz); a USB-C port for pass-through iPad charging (60W); USB-A; 3.5mm audio jack; and both SD and microSD card readers.
Beautifully built, it weighs 280g and folds up for portability. It connects to the iPad Pro with its built-in USB-C cable. Note that it's USB-C rather than Lightning so works with the iPad Pro only (or some Windows tablets if you're so inclined).
Lululook Magnetic iPad Stand
Lululook's Magnetic iPad Stand (Urban Series) is a good-looking floating, adjustable aluminium stand for iPad Pro 12.9in (3rd/4th/5th Gen), iPad 11in (1st/2nd/3rd) and iPad Air (4th Gen).
A strong built-in magnet automatically aligns and holds the iPad firmly in place, and 360-degree swivel rotation offers portrait and landscape viewing. The supporting arm makes tilting easy for multiple viewing angles.
It's available in Space Gray and Silver.
Lululook also has a Magnetic Stand for iPad Mini.
Flippy iPad Tablet Pillow Stand
If you're looking for a stand for when you're lounging about on the couch or bed, this pillow stand is worth looking at.
A useful feature is you can adjust the viewing angle by resting the device on a separate edge of the pillow stand, as each side is tilted to a different degree.
This works with multiple devices, and the outer fabric can be cleaned easily by using a damp cloth.
Twelve South ParcSlope – Best iPad stand for Apple Pencil use
Pros
Stylish
Great for Pencil use
Cons
Doesn't raise iPad screen
Twelve South's minimalist matte-black ParcSlop is a stand for both MacBook and iPad.
Place your iPad on the stand, and you get an 18-degree angle that's great for sketching with a stylus or typing.
It doesn't offer you any extra height but it is super stable for working on.
Tyrone Gooseneck Tablet Holder – Best flexible iPad stand
Cons
Requires table edge for fitting
Flexible but firm, this gooseneck iPad stand is best suited for passive viewing or video calls where you don't need to use the touchscreen controls so much.
It has a firm grip on the table and the tablet, and can bend to just about any angle you desire.
Belkin – Best iPad stand for presentations
Pros
Interactive whiteboard app
If you're standing up in front of a lot of people and giving a presentation, then this iPad stand is a great choice.
The Belkin Portable Tablet Stage Stand is sturdy and has an adjustable platform to position your iPad right where you can see it. It comes with a built in system for tidying away cables, and you can use the Apple HD Adapter to connect your iPad to a projector or display. The stand comes with an app called Stage (available for iOS and Android) that acts as an interactive whiteboard and document camera.
We think it's a great stand for teachers and others who present on a regular basis.
In Australia it's available directly from Belkin for AU$129.95.
Apple, Computer Accessories, iPad